CHX™: Engineered to Perform
New or Retrofit

Overview | Eliminates Corrosion | Proven Productivity | Engineered to Perform | IFGT System | Improves Efficiency | Steam Plants | Global Warming

Unlike conventional economizers and air heaters, which must maintain temperatures above 300 degrees F (149 degrees C) to prevent condensation, the CHXTM system thrives in a condensing environment where inlet water or air temperatures are ideally less than 80 degrees F (27 degrees C), and exhaust gas exit temperatures are only 100 degrees to 130 degrees F (38 degrees to 54 degrees C).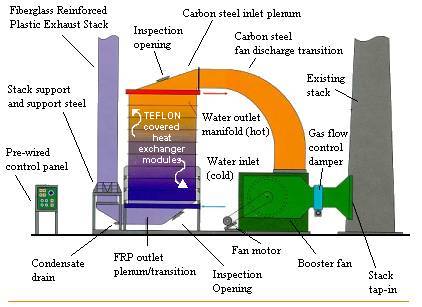 Since the heat exchanger tube surface and the exhaust area of the heat exchanger are at a temperature well below the dew point of the water vapor, a rain of condensate is produced through dropwise condensation of the water vapor. This condensate passes around the tube array, carrying particulates and acids which have been scrubbed from the gas and washed from the tubes.
The CHXTM system's design permits waste heat from multiple boilers to be recovered by a single unit. Because the system is often designed in a passive arrangement, it will not interfere with normal boiler operations and will provide significant cost savings.
Retrofit installations typically require only minor modification to existing equipment and minimal downtime.
---
Condensing Heat Exchanger
900 Commerce Drive, Clifton Park, NY 12065
Phone: (518) 877-8805 Fax: (518) 877-8686
E-Mail: john.gocek@steamplantchx.com
©2003 Condensing Heat Exchanger All Rights Reserved.