CHX™ : Proven Productivity

Total Support | Eliminates Corrosion | Proven Productivity | Engineered to Perform | IFGT System | Improves Efficiency | Steam Plants | Global Warming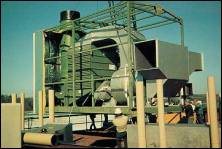 Today, more than 130 CHXTM systems have improved efficiency for a wide spectrum of industries by recovering heat from boiler flue gas; incinerator, furnace and kiln exhausts, textile ovens and dryers; and other process equipment. This recovered heat is being used in applications ranging from process and makeup water heating to combustion air preheat- while simultaneously improving the environment.
The CHXTM System
Whether utilized in industrial steam process boilers, cogeneration or waste-to-energy projects- in original installations or retrofit- CHXTM units have demonstrated their economic viability over and over again. An increase in boiler efficiency of 5 to 12% is achievable.
Typical Cost Savings With a
CHX System:
Average Boiler Steam Load
100,000 lb./hour
Flue Gas Inlet Temperature
350 degrees F
Flue Gas Outlet Temperature
134 degrees F
Temperature of Water Inlet
60 degrees F
Temperature of Water Outlet
181 degrees F
Sensible Btu Recovery
5,971,836
Latent Btu Recovery
3,080,519
Fuel Cost
$3.00/mmBtu's/Hr
Annual Saving
$291,203
---
Condensing Heat Exchanger
900 Commerce Drive, Clifton Park, NY 12065
Phone: (518) 877-8805 Fax: (518) 877-8686
E-Mail: john.gocek@steamplantchx.com
©2003 Condensing Heat Exchanger All Rights Reserved.